Crude Oil Futures Bouncing Near Their Lows of 2012
Crude oil prices are falling; stockpiles are rising. Is the economy really so troubled, or are energy markets recovering from excessive speculation and reacting to oversupply woes?
Crude oil prices hit their lowest levels since late 2011 yesterday, with West Texas Intermediate falling below last October's levels to hit $78.20 a barrel, down 4%. Brent crude, the European benchmark price, tumbled 3.7% to $89.23 a barrel, the lowest level since last December. It's the front end of the curve on the futures price that has taken most of the punishment, as bearish economic data appears to signal that near-term demand for raw materials – including crude oil and by-products like gasoline – is easing up. The most recent culprit? News from China that the country's manufacturing sector is contracting more rapidly than economists had expected, combined with a fresh wave of pessimism on the U.S. economy's outlook, thanks to the fact that Federal Reserve policymakers appear reluctant to commit themselves to aggressive stimulus measures.
Despite a rebound in crude prices in trading today, energy market pundits have taken to the airwaves to describe it as more of a reaction to the big selloff than a sign of newfound optimism with respect to commodity prices or the economy. The near-term August light sweet crude contract on the New York Mercantile Exchange was trading closer to $78.65 by midday, but that is still far below the high of $110 a barrel commanded in February by the then near-term Nymex futures contract.
As the chart below shows, it's clear that with every bit of bad economic news, crude oil responds with another downward move. This year, the pattern taking shape resembles that of other summers: a weakening of the economic data midyear is followed by weaker oil price.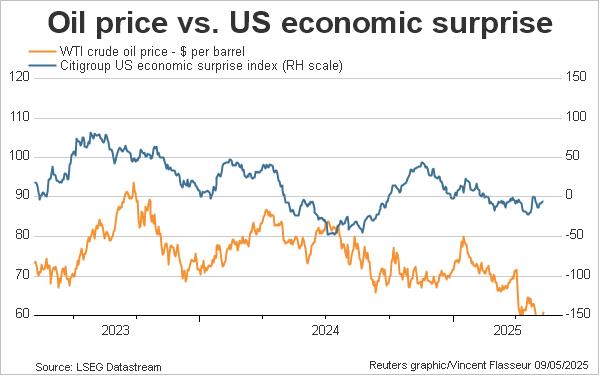 What has been different about this summer's slump, however, is that it came in the wake of a winter during which nearly everyone was calling for crude oil prices to spike amidst geopolitical uncertainty and the prospect of a boycott of Iranian crude supplies. That anxiety has been largely swept to the side, replaced with more immediate fears that the intractable sovereign debt crisis in the eurozone is in the process of slashing economic growth worldwide. Speculators – defined in commodity markets as those who have no need to hedge commodity price risk, but who hope to profit from price movements – had taken on big long positions in crude as a result of those expectations of higher prices, however; the unwinding of those holding may be another factor contributing to the magnitude of the selloff.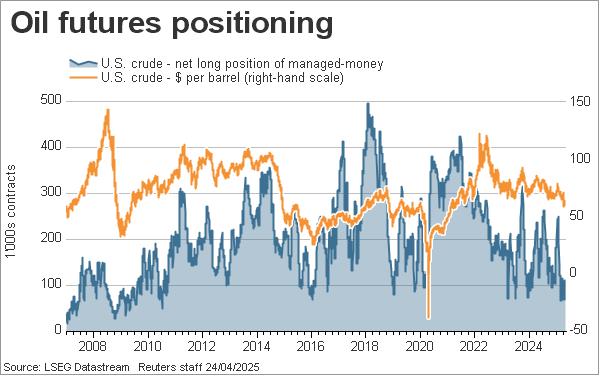 Not surprisingly, oil stockpiles are climbing in the United States, whether in response to an actual decline in real demand for crude or because producers have ramped up output regardless, hoping that a sudden change in direction will help boost their revenues. In the U.S., oil stockpiles have now reached their highest level in 22 years, according to a government report earlier this week, and now stand at much higher levels than normal for this time of year. Meanwhile, demand for gasoline is at its lowest since 2001.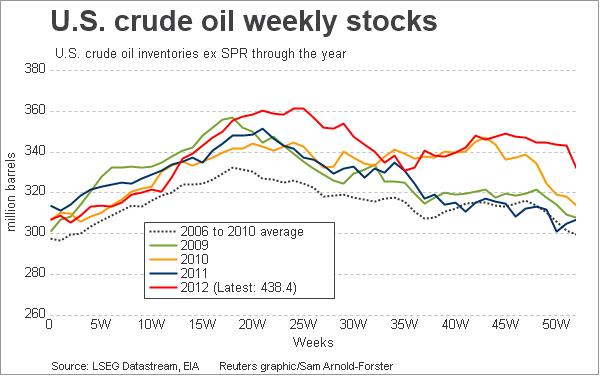 Intriguingly, the once-tight relationship between crude oil prices and the Standard & Poor's 500 index has begun to loosen. Until recent weeks, the same fundamentals – the prospect that the U.S. economy may have returned to growth mode, and that that growth might actually accelerate – had driven both. Now, they are diverging, and studying them to understand the reason why might be a useful exercise.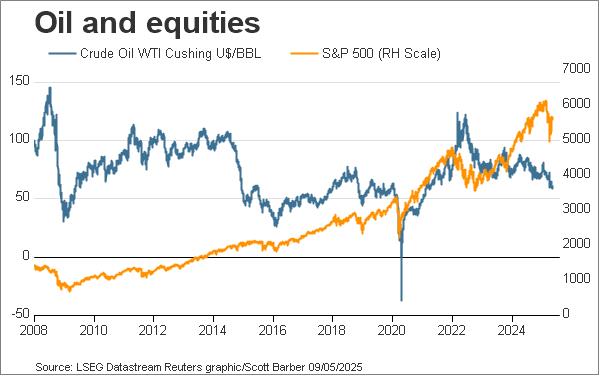 Do the two groups of investors simply have different views of the world right now, with stock market investors being more upbeat (or less willing to stare reality in the face)? Or are oil market participants more focused on the supply glut that has taken shape? The extent to which that stockpiles remain at high levels will certainly be an important economic indicator in months to come; it will prove uneconomic for exploration and production companies to continue extracting crude that is only being shipped into storage and at some point they will begin to slacken their production rate. As that happens, it will prove rewarding to monitor what happens to stockpiles; a decline will signal that the economy hasn't yet stalled, while stocks that remain relatively unchanged even after production levels have declined may indicate that those bearish economists predicting that the U.S. economy is in trouble may be on the right track.